WART Extractor is used to generate secure hash channels from your Android device after you register WhatsApp numbers on WhatsApp officail client.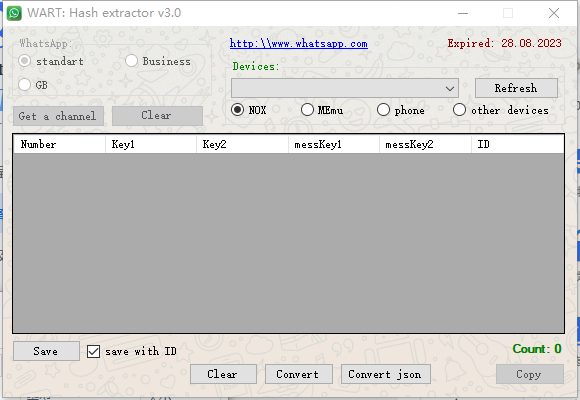 Features:
– not need change IP for extract 6-key channels
– good quality of channels
– easy to use
– convert Queen channels in hash (button Convert)
Note:
The device must be rooted with SuperSU (if You use Android phone)
Start WhatsApp on Your Android device and register account.
From PC start application WART Extractor.exe and click Refresh
Click GetChannel. You will receive hash channel, which have new format: number,key1,key2.
System requirements for all softwares:
– Windows 7 (with installed all updates), 8, 8.1, 10 (Windows XP not supported)
– 50 Mb free space on hard disk
– good internet connection
– installed microsoft visual c++ 2015 redistributable.
– installed Microsoft .NET Framework 4.5
License key valid for 6 months!
if we have updated version and your license still alive, you can get free update!
Any WhatsApp software need hash channels (accounts) to work.
No free channels given when updates come, we only give free 5 channels on the first purchase for testing only.
After tested channels get blocked or banned, You can buy channels or create channels
You can get 10% discount for extend if you extend before your license EXPIRED